20. May. 2020
In May 2020, the Guarantee Fund has a total of 318 members, of which 56 are Danish non-life insurance companies and 262 are non-life insurance companies from other EU-countries. Members are divided into the following countries: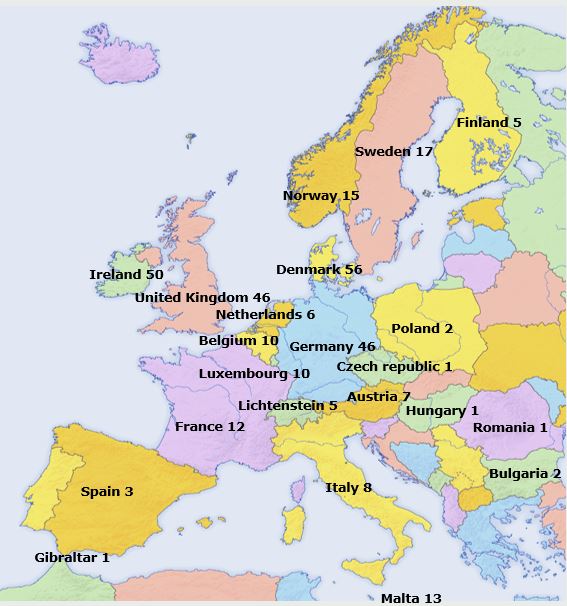 As of 1 January, 2019 membership of the Guarantee Fund is a pre-requisite to carry out insurance business in Denmark. All new members had to pay a one-time contribution fee of at least DKK 100,000 upon enrollment. 
At the same time, the Danish Financial Supervisory Authority instructed the Guarantee Fund to collect contributions from its members, in order to re-establish the Guarantee Fund's capital. In 2019 the contribution fee was fixed at DKK 40 per police for a number of private policy lines.
Contributions to the Guarantee Fund are made via quarterly reports to the Guarantee Fund.
Income and expenses in 2019
In 2019, the Guarantee Fund received a total of DKK 25,821,350 in one-time contribution fees from newly registered members and a total of DKK 307,656,360 in ongoing contributions.
This provides a total income in 2019 of DKK 333,477,710.
The Danish members' ongoing contributions amounted to DKK 278,140,200, while members from other EU-countries contributed DKK 29,517,160 in ongoing contributions for 2019.
In 2019 the Guarantee Fund had expenses for a total of DKK 843,790,628, which was mainly used for claims payments and premium repayments to policy holders in the three bankruptcies in Husejernes Forsikringsagentur (Gable Insurance), Alpha Insurance and Qudos Insurance.
In 2020, the Guarantee Fund excepts to cover claims to Danish policy holders in CBL Insurance Europe Dac, which went bankrupt in March 2020.